I have just returned from the third  Letterpress Workers International Summit, organised and hosted by  Officina Novepunti. Located at Leoncavallo, Milan, between the 18th to 22nd June, the event was attended by international letterpress designers and printers, from as far afield as Mexico.
A large selection of printing presses and collection of wood type were assembled to be used by the attendees to create letterpress prints in editions of 50 copies on the topical subject of 'Borders'. Following the event, the works were displayed at an exhibition alongside letterpress work from a selection of Italian designers.
Letterpress Workers appears to be going from strength to strength and I'm already looking forward to the 2015 edition!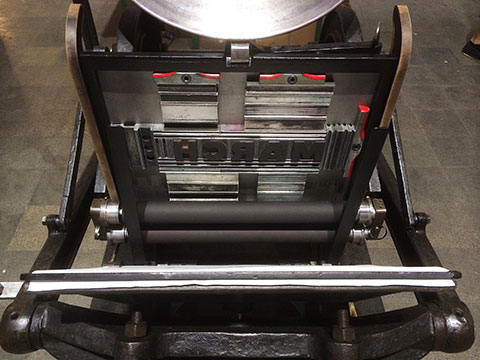 The letterpress designers and printers in attendance this year were Mark Pavey (UK), John Christopher (UK), Pete Burke (Denmark), Armina Ghazaryan (Belgium), Graham Bignell (UK), Jens Jorgen-Hansen (Denmark), Thomas Siemon (Germany), Portilla & Paniagua (Mexico), Tiny Risselada (Netherlands), Yago Bolivar (Spain), Anne Marie Koper (Netherlands), Sander Pinkse (Netherlands), Apmub (Portugal), Christian Granados (Spain), Pat Randle (UK), Nick Loaring (UK), Marc Berger (Germany), Justin Knopp (UK), Stéphane De Schrevel (Belgium), Edward Johansson (Finland), Lucio Passerini (Italy), &type (Italy), Roxy Columbus (Italy), Archivio Tipografico (Italy), Cabaret Typographie (Italy), Anonima Impressori (Italy).